I was minding my own business, while a few others were making hummus nearby. Someone offhandedly asked me how I would incorporate tahini into a cocktail. A few minutes later, I found myself shaking a jar full of gin and tahini.
First steps
Tahini is quite oily, so my mind went immediately to fat-washing. I wasn't sure that gin was the best choice (more on that later) but it was the best match that I had on hand (see travel bar.)
Experimental Tahini-Washed Gin
6 oz Gin (Seagram's)
1/2 oz Tahini (I forget the brand)
Shake mixture until fully incorporated (or at least as incorporated as possible.) Let stand for 10 minutes, strain, put in freezer for 2 hours, and strain again.
Then it came time to actually make a cocktail. A lemon based sour seemed the natural choice. A few people simultaneously thought of using an absinthe rinse.
Here's what happened:
Tahini Sour
2 oz Tahini-Washed Gin
1 oz Lemon Juice
1/2 oz simple syrup (2:1)
dash Herbsaint (an excellent absinthe substitute)
Shake gin, lemon, and sugar with ice and strain into a glass rinsed with the Herbsaint.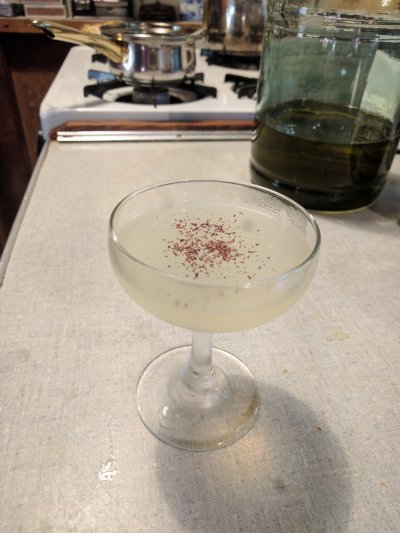 Reactions
The Critical response was mixed, in the truest sense of the term. The first three people to try it found the Tahini Sour absolutely repulsive. The next could take it or leave it, and the final three liked it. Those who liked it reached a consensus that it still needed something extra, so we began to raid the shelf for hummus appropriate spices. Sumac looked nice (see picture) but didn't really contribute much flavor. Cumin just wasn't quite right. Various hot peppers took over the drink. The eventual winner was a small dusting of smoked paprika.
To everyone's surprise...
...This is actually a decent drink. The gin is a bit lost in the mix and might need to be replaced. Possibly a blanco tequila, or we could ditch the Herbsaint and use arak as the base spirit. The tastes of the lemon and tahini play well together, while the paprika keeps the tahini smell from overpowering. I made this drink as a joke, but I might just have to keep developing it.